(Current News)
New Release!
Look at the Hits on That!
The New Fuzzbox CD/DVD
Featuring all the hits, Bonus DVD, and Brand New Remixes!
Track listing:
CD

Rules & Regulations
X X Sex
Rockin' With Rita
Love Is The Slug
Wait And See
Spirit In The Sky
What's The Point
Taking The Easy Way Out
So Long
International Rescue
Fast Forward Futurama
Pink Sunshine
Self!
Walking On Thin Ice
Your Loss My Gain
You
Do I Want To? (1990)
International Rescue (Droyds Mix)
Fast Forward Futurama featuring Manda Rin (Syndrum Mix)
Rules & Regulations (Motormark Remix)
International Rescue (Koishii & Hush Single Edit)

DVD

Rules & Regulations
Rockin' With Rita
Love Is The Slug
What's The Point
International Rescue
Pink Sunshine
Self!
Walking On Thin Ice
Your Loss My Gain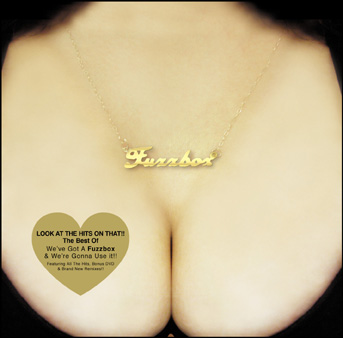 New Release!
Fuzzbox: International Rescue (the Orgasmatron Mix)
Retro:Active 2 on Hi-Bias Records
HIB-10162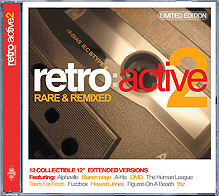 THE MUCH ANTICIPATED FOLLOW UP TO VOLUME ONE IS HERE!
FEATURING MANY TRACKS AND MIXES NEVER BEFORE COMMERCIALLY AVAILABLE ON CD!
The Human League 'Human' (Extended Version) **
A-ha 'The Sun Always Shines On T.V.' (Extended Version) +
Tears For Fears 'Shout' (Dub Mix) **
Blancmange 'Don't Tell Me' (Dance Remix) **
Howard Jones 'Look Mama' (Megamamamix) **
Figures On A Beach 'No Stars' (Unreleased Club Mix) **
OMD 'So In Love' (Brand New Extended Mix) **
Fuzzbox 'International Rescue' (The Orgasmatron Mix) **
Q Lazzarus 'Goodbye Horses' (Extended Version) **
The Dream Academy 'The Love Parade' (12" Mix) **
Alphaville 'Jet Set' (Jellybean Mix) **
Yaz 'State Farm' (Madhouse Mix)
** First time commercially available on CD
+ First CD appearance in North America
- Liner notes by legendary producer Paul Dakeyne (Yaz, Erasure, Yello)
- Special track notes included
Click here to go to the Hi-Bias website and order this CD!

Fuzzbox mentioned on Tech TV!
I'm still trying to figure out all the details here, but apparently, Tech TV has started showing the TV show "Thunderbirds", and as you all know, "International Rescue" is based on the Thunderbirds. In one of the TV-related scrolls under the show, Tech TV must have mentioned the song, and the Fuzzbox name, because I've gotten a few e-mails asking for mp3s of the song. Unfortunately, due to size and traffic limitations, I can't host the song on this site, but if you're looking for it, please e-mail me and I'll hook you up. Also, if anyone can give more details, about what was said, or has screen caps, please let me know. People have also been looking for a song called something like "I wanna marry a tracy", or "I wanna marry a boy from International Rescue", which is not by Fuzzbox- I actually have no clue who did it- any help would be appreciated , so I can let the people writing know.

Fuzzbox
Love Is A Slug - The Complete BBC Sessions
CDMRED 213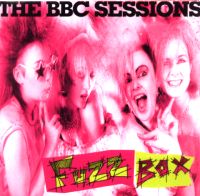 A brilliant new collection featuring the original poptastic punkettes that stormed planet pop, We've Got A Fuzzbox & We're Gonna Use It. Here together for the first time are the 18 tracks recorded by the BBC for the legendary John Peel and Janice Long sessions in 198/87. The band were the darlings of the serious music press and enjoyed massive exposure through the mainstream media that resulted in a string of hits in the late 80's.
The CD features all the bands best known tracks from their earlier period including the alternative versions of their hit singles 'Rules & Regulations', 'Love Is A Slug', 'Spirit In The Sky' and 'What's The Point'. Other highlights include their uniquely Fuzzbox version of Queen's classic 'Bohemian Rhapsody' that's sure to bring tears to your eyes and the timeless and much covered 'Fever'.
The CD booklet features exclusive photos from the band's personal archives, a complete discography with selected 7" picture covers, suggested band Websites and the limited edition Fuzz comic that accompanied their hit single "Love Is A Slug".
Aaarrrrggghhh!!!!! / Fever / Rules & Regulations / Justine / Aaarrrrggghhh!!!!! / Love Is A Slug / Hollow Girl / Console Me / Spirit In The Sky / You Got Me / Preconceptions / Jackie / She / Bohemian Rhapsody / Wait & See / Self What's The Point / High Hopes -
All of the above information provided by Cherry Red Records

(October 2001)
ViX site up and running!
ViX's new web page is up and running, at http://www.vix.uk.com and It's looking pretty good. (webmaster jealousy off) I should be hearing some of the new tracks from the album any day now, and I'll report back when I do. But, go see her site asap!
Maggie and Jo album in progress
I've finally gotten back in Touch with Fuzzbox management again, and Kurt Davies has told me that Maggie and Jo are still in the studio recording an album of completely new material. The album is going to be called "360 degrees" (I know, this is old news to some of you), and some song titles will be:Give It Up, The C Is Green, One Hour, Balloon Girl and Are You Feeling Good? At least some of teh album will have work on it by Fuzz Townsend, from Bentley Rhythm Ace and Pop Will Eat Itself. the album is due to be released on Universal Records sometime in mid-2001. I finally had a chance to talk to Maggie this week, and aside from being a great person with an incredibly bubbly laugh, she told me a few things about the present and future of the band. Word from her is that this will definitely be the last project under the Fuzzbox name, and if anything else is done, it will be a solo project, and will be "Very low key".

(February 2001)
ViX solo album out soon!
I just received word from Kinky Samosa Management that ViX's Solo album is in the finishing stages and will be out in the next few months. Also, ViX will be playing at Bray Studios in Berkshire (UK) on Feb 17th. Anyone wanting info can contact Steve Hughes at steve@kinkysamosa.com
Here is a review of that gig:
White Label Launch Party
Bray Studios 17th February 2001
Vix
Jeez! Was this girl born to sing!The audience was held effortlessly in the palm of her hand.Oh yes,me too!
A mate of mine dragged me all the way out to 'sunny Windsor' as he is a huge fan of The JupiterCollision and they were to be one of seven acts performing at this launch party.
Feeling full of flu,I downed a Beechams and agreed begrudingly to go along with him.He promised me it would be worth my while. Hate to admit it but he was right. Some what of a double bonus for my mate as The Jupiter Collision performed twice. Once in their own right and again as part of ViX's band. True, they were well hot!!
Back to ViX,with sincere songs of atmospheric beauty to kicking anthems of attitude and balls! A roller-coaster ride in just 30 minutes. Over far too soo. Please can I have some more??
Highlights were the opening number "The Woman Every Man Wants", a track of truly great magnitude,drenched in plushness and has a sexySci-Fi/Bondesque feel to it. A definite winner and is featured on the film of the same name WOW!! "Dirty Girl" was pure sleazy-funk with ViX whipping the the audience(not literally unfortunately) into an orgasmic frenzy.
I decided to find out more about this myserious woman, finding out to my amazement that this was the lead singer of "We've Got a Fuzzbox and We're Gonna Use it!! What??
So where has she been since then? She must have been dabbling in cryogenics because not only does she sound better than ever but she looks absolutely amazing too!
A few similarities perhaps. Fuzzy guitars,tongue firmly in cheek(yes please). I have to confess I was never the biggest Fuzzbox fan ever, though I can still remember the catchy tunes,crazy hair and ViX's belly button.Mmm!!
Well girl you've come a long way baby and you're sure gonna go a long way still.
Whether you're a fan or not,youwon't be disappointed. I wasn't nor were the other 300 members of the audience. Excellent launch party with electric atmosphere.Forgot all about my flu, gave it to mymate instead. I owe him one! Go ViX!! We're with you all the way girl!
Jenny(Wren)Wade
Freelance Music Journalist for WWW.
Also, here is a new Photo of Vix and the text from her Press Release:
ViX

ViX is the former lead singer/songwriter
of the Splendiferous all-girl pop sensation
"We've Got A FUZZBOX & We're Gonna Use It!!"

At the age of 'sweet' sixteen ViX & the other fuzzchicks were
snapped up & rocketed to worldwide success with
"f.a.b chart hits such as
"International Rescue" & "Pink Sunshine".
Their second l.p. shot straight into the charts at No 5
(W.E.A. records/Warner Chappel Music).

...FUZZBOX..'s appeal brought them publicity
in a wide cross-section of the music and mainstream press
(Smash Hits, N.M.E., Q Magazine, Cosmopolitan, the Sun, Guardian.)
Their unforgettable T.V. Appearances include
MTV, Going Live, Jim'll Fix It, the Old Grey Whistle test,
and 8 performances on Top Of the Pops!
Live promotional tours covered the
UK, Europe, Canada, The USA, & The Far East.

After six fantastic years, the gals decided to call it a day and
ViX embarked on her solo career.

Since those fuzzy days ViX has focused her attention on other
loves such as drama (acting roles include psychotic twins,
femme fatale & bearded lady!) & dance.

She has helped raise the profile of Greenpeace,
Terrance Higgins Trust, Barnados, Sense, the PDSA etc.
She has also collaborated with the likes of
Johnathon Ross, Glenn Tilbrook (Squeeze),
Hugh Cornwell (The Stranglers) & The Weather Girls.

And Now?

There's a real music bizz buzz surrounding the
foxy vixen's solo material following powerful performances at
Ronnie Scotts, Pride, Arts fest, Dingwalls, BBC Music Live,
The National Indoor Arena & Birmingham's Centenary Square.

ViX has worked as a presenter & scriptwriter for
Carlton TV's "Premiere" (Arts & Entertainment Series),
The BBC, Yorkshire TV (Music & Comedy Series), Talk Radio,
Virgin Net's Celebrity web casts & The Raindance Film Festival.
She has interviewed such famous names as Travis, Sunk Anansie
The Beautiful South, Pulp, Moby, Richard Blackwood, Audley
Harrisson, Mike Figgis, Jack Cardiff & Leslie Phillips.

(Text and photograph provided by Steve Hughes of Kinky Samosa Management)

Second new Fuzzbox album in 2 months!
The Fuzzbox Story: Rules & Regulations to Pink Sunshine is now out in the UK, released February 5, 2001. It can be ordered from Amazon.co.uk, Amazon.com, Tower Records UK, Tower Records US, HMV UK, as well as your local record store (if you're un the UK, at least.)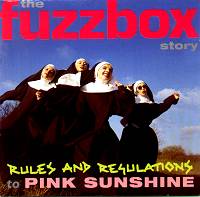 CD 1

CD 2

1. International Rescue (Perl and Dean Mix)
2. Spirit in the Sky (Perl and Dean Mix)
3. Pink Sunshine (Perl and Dean Mix)
4. Self! (Perl and Dean Mix)
5. You (1998 Version)
6. Your Loss My Gain (Alternative Version)
7. Germ Free Adolescence
8. International Rescue (Demo)
9. Versatile for Discos & Parties (Demo)
10. Irish Bride (Demo)
11. Do You Know (Demo)
12. Raining Champagne (Demo)
13. Do I Want To? (Demo, 1990 Version)
14. I Was The One
15. Pink Sunshine (Acoustic Demo)

1. Rules & Regulations (Live)
2. Disco Boogie Song (Live)
3. You Got Me (Live)
4. Spirit in The Sky (Demo)
5. Rockin' With Rita (Head To Toe) (Demo)
6. Enigma (Demo)
7. She (Demo)
8. Hollow Girl (Demo)
9. Do I Want To? (Demo, 1985 Version)
10. The Queen is Really Rather Nice (Sketch)
11. Roses
12. Margarita
13. Spain
14. Rat
15. Don't Have Him Back (Demo)
16. I Won't Cry
I think I'm actually more excited about this than I was about the Fuzz and Nonsense CD, primarily because there's a bunch of stuff on here that I've never even HEARD of before! (rat? Spain? margarita?) and what appears to be a real studio version of "Roses" as well! And they used my discography and are going to credit the web page. What else could you ask for???

(December 2000)
NEW FUZZBOX ALBUM RELEASED!!!
The new Fuzzbox album, "Fuzz and Nonsense " is now out and available for sale. It can be ordered online from Amazon.com.uk and HMV UK and the US amazon.
Fuzzbox- Fuzz & Nonsense

Track listing:
1. Love is the slug (demo)
2. XX Sex (demo)
3. Console me (demo)
4. Aaarrrggghhh!!! (demo)
5. What's the point? (fuzzy skool disco mix)
6. International rescue (demo)
7. Taking the easy way out
8. Pink sunshine (demo)
9. Don't have him back
10. Self! (demo)
11. So long
12. Your loss my gain (acoustic)
13. You
14. A Thousand thrills
15. Out of this world/Spirit in the sky (Saturday nite down the Legion mix)